Scalability Story: IT Services Provider
One of our customers is a major European provider of network and IT services. Their client base includes companies, municipalities, and regional councils relying on our customer for fiberoptic networking, IT equipment maintenance, digital telephony services, and more.

To support those client services, FrameFlow was selected as their IT monitoring solution. Our single-pane-of-glass functionality was ideally suited to help them keep track of 1800 devices spread out over multiple physical sites.
FrameFlow constantly monitors their critical IT systems including enterprise-grade routers and stacked switches.
SNMP Bandwidth and Interface Monitoring
SNMP is a major component of this monitoring. As an example, they are using FrameFlow's SNMP bandwidth event monitor to keep tabs on a core switch with over 500 network interfaces.
Every 30 seconds FrameFlow gathers and records incoming, outgoing, and total bandwidth rates for each interface. This data then drives full screen dashboards which are on display in their NOC so all team members have an instant view of network operations.
Simultaneously monitoring a mix of 1800 switches, routers and other network devices
The above example is for just a single switch. FrameFlow is simultaneously monitoring 1800 other devices with similar settings and schedules.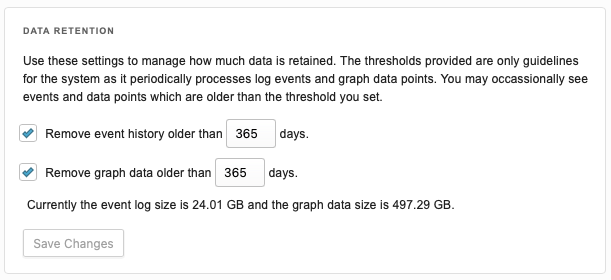 To give you a feeling for the scope of the monitoring, over the last 12 months our customer has collected 521 GB of monitoring data, all of it being managed by FrameFlow's high-optimized data processing engine.
2.6 terabytes of raw data collected. More than 7 GB every 24 hours.
Our engine employs advanced compression strategies and the figure above is the compressed data size. The raw data set totals over 2.6 terabytes in size. FrameFlow collects more than 7 GB of data every 24 hours.
Full Resolution Data Collection
Unlike some other IT monitoring solutions, the data collected by FrameFlow is stored in full resolution and is never summarized or averaged. This allows our customer to maintain full visibility of network conditions and is important for both event reconstruction and auditing purposes.

This client started with a mid-sized FrameFlow license in 2016 and has continued to grow and expand their monitoring ever since. FrameFlow's ability to scale has been the key component that ensured our customer's IT monitoring was able to grow along with their own expanding operations.
"Keep up the good work. You guys can do things that no one else can."
When they recently renewed their support and maintenance contract one of their network admins said to us: "Keep up the good work. You guys can do things that no one else can." We sincerely appreciate that. It tells us that we're on track in our relentless mission to push the boundaries of what's possible in high-end IT monitoring.
Try FrameFlow Now
Are you new to FrameFlow? Take it for a spin for free for 30 days and starting taking advantage of its enterprise IT monitoring features.
Try FrameFlow Now